IoT Sweden part of Team Sweden at Transfiere
IoT Sweden will participate in Transfiere in Málaga 14–17 February. Transfiere is Spain's major expo for research, development and innovation. 
Stakeholders from both the public and the private sectors participate in order to share knowledge, networking and learn about new innovations.
IoT Sweden is one of the representatives in the Swedish delegation TeamSweden for Transfiere 2023. The expo, which is organised for the 12th year in a row, is Spain's major forum where various stakeholders gather around research, development and innovation.
Sweden and Finland are special guests
IoT Sweden has been selected to represent TeamSweden together with Business Sweden, the county of Västerbotten, Ericsson, RISE (Research Institutes of Sweden), Sensative, IVL and AlfaLaval. In addition to Sweden, Finland is also participating with a delegation.
"There is an interest in how we work with digitisation in the Nordic countries. The similarities between Sweden and the rest of Europe are greater than the differences. Organisation and governance separate us, but we share common challenges and there is great value to learn from each other", says Olle Bergdahl, Programme Director at IoT Sweden.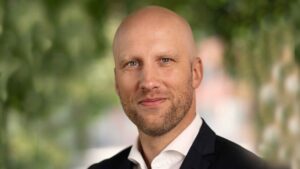 Networking with Spanish cities
IoT Sweden participates, among other things, in a panel discussion about The Nordic Way – Innovation and Digitisation for Sustainable Societies. In addition, IoT Sweden will discuss with Spanish cities the work with innovative IoT solutions in the public sector that is ongoing. Spain is one of the first countries in Europe to implement a national standard for innovation management.
"However, we also want to showcase IoT Sweden's project portfolio and we know that there is a great interest in all our exciting projects. Perhaps especially in the areas of digitisation and sustainability, e-health and smart cities", says Olle Bergdahl.
Transfiere takes place in Málaga 14-17 February.
Read more